Dialogue session: Youthlab & OM
23 February 2022
Three experienced youths of the Youthlab were invited to meet and spreak with Gerrit van der Burg, chairman of the Board of Procurators General at the Public Prosecution Service (OM).
The dialogue session was an exchange of experiences about the contact between a young offender and the public prosecutor. In the role of advisors, Youthlab explained how they experiences the contact with the Public Prosecution Service. They also considered child-friendly legal action: what exactly does that mean? And how to realize that?
The Youthlab trains and advises professionals such as policy makers and police officers and invites them to 'put themselves in the shoes' of the young people they come in contact with. Although it often does not immediately lead to an innovative idea, a dialogue session helps the professional to become aware of the experiences of young people in conflict with the law.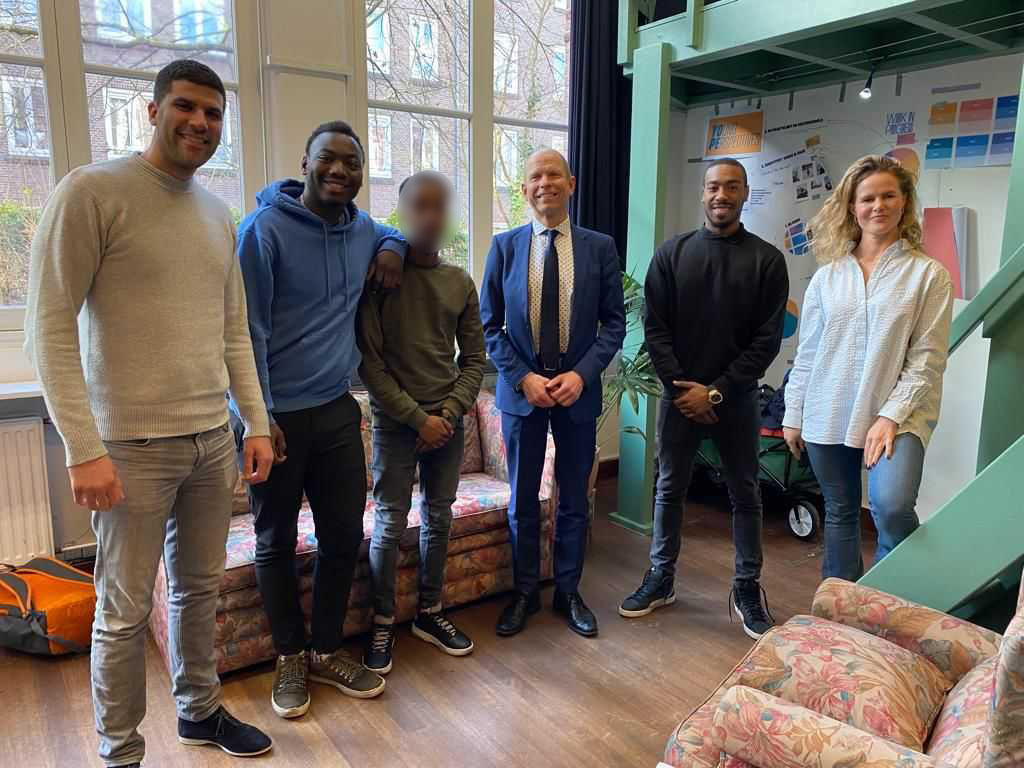 Foto: Gerrit van der Burg en het Youthlab
To kick-off the meeting, Jason recited his spoken word 'If I were the boss of the OM' (read below in Dutch). Gerrit: "I hear a lot of things in it that really needs our attention".
'Als ik baas van het OM zou zijn..'
Wat is het perfecte OM?
Ik moet er ff over denken
Vanuit mijn perspectief
Zou ik dingen in de basis anders willen
Luister en huiver
Soms gaat iemand zijn boekje te buiten maar dat wil niet zeggen
Dat hij de les niet plukt en
niet profiteert van de verschillende vruchten die vallen van de boom
Fouten zijn snel gemaakt
Goed en slecht op een dunne draad
schreeuwen om hulp en is hulp daar
maar
we zetten jongeren in hokjes van jongs af aan
kijken niet meer naar het innerlijk maar alleen naar de daad
en dat is ook goed
Maar vergeet niet het is een kind die het doet
en ik praat het zeker niet goed
maar we willen vooruit en dat is iets wat moet
We willen dat hij niet terugvalt in de dingen die die doet
het OM, die zaal met mensen, kijken me niet aan
en ik vind het eng
te praten over mij alsof ik er zelf niet ben
Terug naar realiteit betrek de ouders erbij
hou het bij elkaar, zij aan zij
Je zit daar in de struggle en je voelt geen veiligheid
Dus stel iemand op zijn gemak
dan weet ik zeker dat je een glimp van de echtheid
van jongeren pakt
en het hoeft zeker niet hand in hand
maar samen staan we sterker
en dan creëren we vanzelf een band
- Jason
More information
Would you like to read more about the Youthlab? Read
the Youthlab brochure
(only in Dutch).
For questions or more information, please contact Elizabeth Vrieling: elizabeth[@]younginprison.org