First COPOSO course in Tirana, Albania
25 July 2019
The Netherlands Helsinki Committee and Young in Prison (YiP) visited Tirana the first week of July to train creative teachers and youth workers from Kosovo and Albania in the use of the COPOSO methodology.
COPOSO stands for "Contributing Positively to Society" and is an experience-based method for juvenile (ex-)detainees aimed at a successful reintegration through Urban Arts and Sports.
The training marked the kick-off phase of a pilot project in Kosovo and Albania. Here, local civil society organizations will be implementing programmes using the COPOSO methodology in juvenile detention centres in their country. Brezeida Manofi, representing the Albanian Ministry of Justice opened the training and the Albanian and Kosovar Director General of Prisons supported in organising the event.
Participants of the training said that:
"[The training] has been a very good experience, planning and organization were at a high level and the approach of the trainers to us was excellent. We want to get started with the pilot project as soon as possible"
"It was a pleasure to be part of this training through which we adopted new working methods, the application of which in our institutions will help us to achieve the goal of rehabilitation and reintegration of juveniles. We are very grateful to the organizers of this training that gave us the opportunity to share our experiences with our colleagues from Albania"
"It's one of those training that gives satisfaction by learning."
The COPOSO methodology was developed by Young in Prison in co-creation with its international partners. The training in Tirana provided participants with insight and tools on how to use their own creative and sport expertise in a way that sets free the potential and talents of youth deprived of their liberty.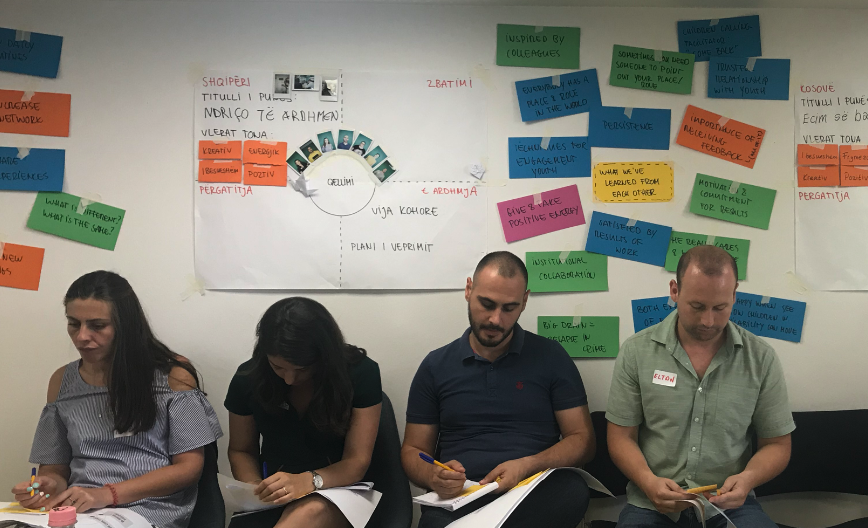 The training is part of
a prison reform project
of the Netherlands Helsinki Committee that works towards improving the possibilities of successful reintegration into society. By involving a wide range of actors, from governmental and non-governmental to arts and education, it aims at fostering sustainable changes in the criminal justice system that benefits both the juvenile detainees and society at large.
The training included representatives from: Kavaja Juvenile's Institute, Caritas Albania, Ortek Martial Arts Academy, Albanian Helsinki Committee, Lipjan Correctional Center, Lipjan Educational Center, Caritas Kosovo and the Center for Development of Art - Q'art