Training Macedonia commissioned by Netherlands Helsinki Committee
28 June 2018
Jaap van der Spek of Young in Prison visited Macedonia to train staff of youth prisons. They aim to incorporate the COPOSO methodology of YiP and engage teachers or organisations for its implementation.

Photo: Young in Prison
COPOSO (Contributing Positively to Society) is open and accessible for everyone. Over the past years, YiP learned in different settings and locations how our methodology thrives. We collected these experiences in personal support and trainings for prisons, governments, NGO's and other organisations.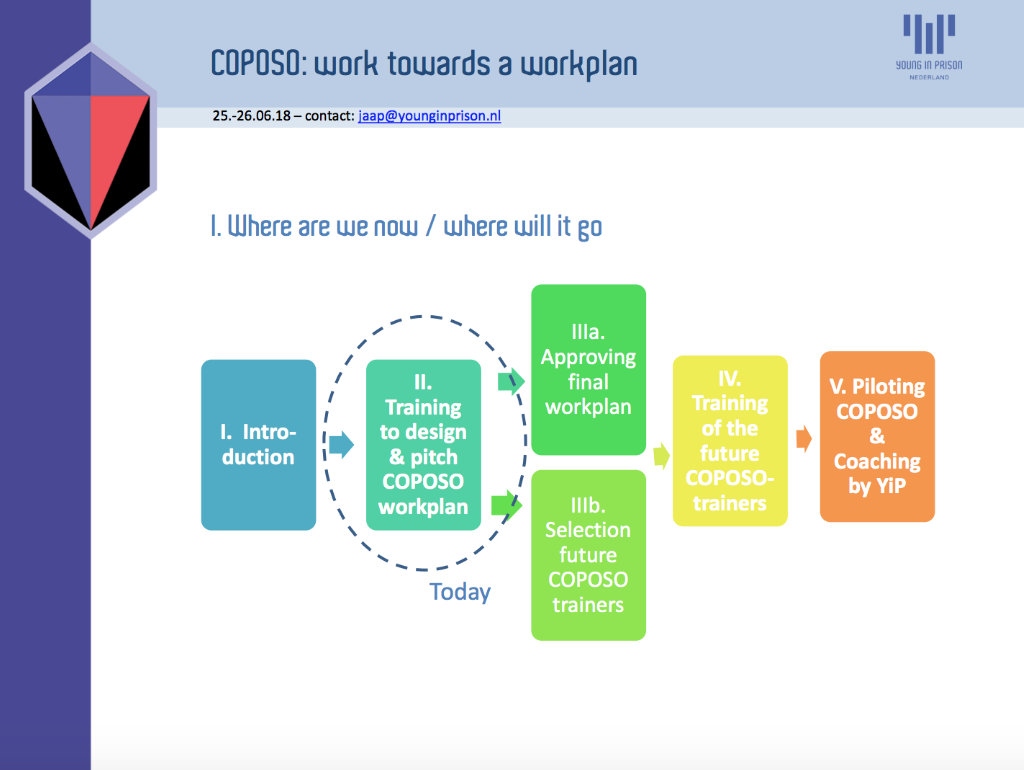 Slide from the presentation in Skopje on June 25 and 26
Directors of youth prisons in Tetevo and Ochrid and staff of the Ministry of Justice discover in the training how COPOSO can contribute to their organisations. The training exceeded the pedagogical elements of COPOSO and was also about organisational exercises and the management of making COPOSO part of their programme in a sustainable way.
A selection of questions that were discussed in the training:
What is the public proposition of COPOSO? What is the meaning of the integration of COPOSO for youth, your organisation and the public?
How do you organise support and a joint learning process for COPOSO in your organisation? How do you prevent that COPOSO stops when people in power change? Who share your belief in the power of creativity and are part of your coalition?
What operational capacities are needed for COPOSO to succeed? For example: which NGO of freelancers do you have to engage to implement the creative workshops? And: what are security requirements should your organisation take into account?
The participants presented their pitch to the Director General of the Ministry of Justice. They will continue to work on their strategic policy plans during the summer with support of Young in Prison. The next training session will include a meeting of the intended COPOSO trainers with juveniles in Ochrid.
Young in Prison will also visit Kosovo, Albania and Morocco for COPOSO trainings in 2018.